Guadalajara, Mexico, is a beautiful city that is rich in culture and history, making it the perfect place to learn Spanish. At our Spanish Language School, we take a comprehensive approach to Spanish education. Language is much more than words and sentences. It is a reflection of culture. Our students in Guadalajara get so much more from their courses thanks to the magnificent surroundings.
Where Is Guadalajara, Mexico?
Guadalajara, also known as the City of Roses or the Pearl of the West, is a large city in Western Mexico in the state of Jalisco. It was founded by the Spanish in 1542 as a small village. From its humble roots, Guadalajara has grown to be the second-largest city in Mexico by population, behind only Mexico City.
The city is filled with innumerable colonial buildings, museums, churches, parks and other cultural attractions. There are a charm and beauty that you can't find anywhere else in the world.
Jalisco is well-known for its mariachi music and tequila, both of which originated in the region. While you can find these all throughout the state, there is nothing quite like being at the center of it all in Guadalajara.
Additionally, the city is located a few hours from Puerto Vallarta, a world-famous beach resort. The climate is very temperate, comfortable and sunny all year round.
Our Spanish Language School in Guadalajara, Mexico
An important goal of IMAC Spanish Language Programs is immersive learning. For example, you may spend the morning in the classroom learning Spanish, then the afternoon exploring the sites, sounds and experiences of Guadalajara, Mexico.
Many of our students take full advantage of this setup, using their new language skills to order a refreshing tequila or ice cream on a hot afternoon. This isn't just a fun way to pass the time; it is also a highly effective way to learn Spanish fast and deepen and internalize your understanding of Spanish.
We offer a variety of Spanish Course types to choose from. You can even get a DELE Certification through our Spanish Language School to prove your proficiency. These are a few program types we offer: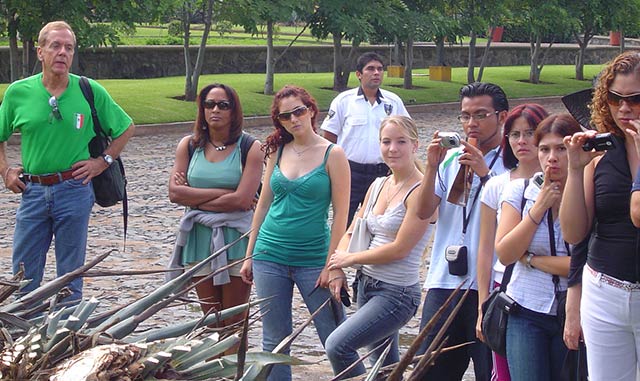 Learn More
If you are ready to learn Spanish in one of the most beautiful and culturally rich cities in Mexico and with one of the best Spanish Language Schools in Mexico, Contact Us to learn more. We are happy to provide you with more information and help you find the right program for you.